Termites Natural Bridge, Gold Coast, Queensland
Do you have a termite problem in Natural Bridge? Call CTS Termite and Pest Control. CTS Termite and Pest Control are your local professionals servicing Natural Bridge. Whether you need termite protection for your home at Natural Bridge or general pest control, CTS Termite and Pest Control are rated 5 stars for first class service.
As our team are fully qualified, licensed and insured we give you guaranteed service with the knowledge we are providing a level of service that others can only aspire to. With the latest inspection technology, tools and equipment, CTS Termite and Pest Control are ready to deal with termites and pests in one service call. We have the goal of improving the reputation of the termite and pest control insdustry by:
Deliver good old fashioned service
Give the most cost effective solutions
Provide the most effective treatment and advice first time
Carry out inspections and treatments in accordance with Australian Standard 3660.1-2014
Call us during business hours or complete our enquiry form to have your termite Natural Bridge or pest control Natural Bridge needs attended to.
Contact us for work such as:
Termite inspections Natural Bridge
Termite barriers Natural Bridge
Natural Bridge termite eradication
Natural Bridge pre purchase inspections
Australian Standard pre-contruction termite treatments for renovations and extensions
White ants and termites are the same! White ants undetected can cause up to $1000 in structural damage to your home in a week.
For all your termite and pest problems call CTS Termite and Pest Control during office hours on 1300 664 971.
We can assist with these other specialities too:
Pest Control Natural Bridge
Bedbug infestations in Natural Bridge
We guarantee you total termite elimination.
CTS Termite & Pest Control. We are Queensland's Best termite professionals!
Did you know this about Natural Bridge
Natural bridge is a locality in Gold Coast that's located in the far south west. It's name is taken from a rock arch in Springbrook National Park. A waterfall along Cave Creek, a tributary of the Nerang River flows through the arch. Natural Bridge is located at the southern extent of the Nerang River valley on the southern border with New South Wales, between the Springbrook plateau and Binna Burra in the Scenic Rim Region.
The western half of Natural Bridge is protected within Lamington National Park. The rugged landscape here is dotted with waterfalls, lookouts and peaks rising above 1,100 metres. The valley is traversed along its length via the Nerang Murwillumbah Road which continues south. The Police Citizens Youth Club operates the Bornhoffen camp as a community based group accommodation centre.
The Natural Bridge section of Springbrook National Park contains one of the largest glowworm colonies in Australia. In 2007, 280,000 people visited Natural Bridge.
More trees in a locality, the more possibilties for termite colonies around. Think in advance, it's better to prevent these problems that to repair damages from them. To get rid of termite and pest problems in Natural Bridge, call CTS Termite and Pest Control.
Natural Bridge Termite Treatment History
| | | |
| --- | --- | --- |
| Street | Job Type | Year Treated |
| 0 Nerang Murwillumbah Road | Termite Inspection | 2018 |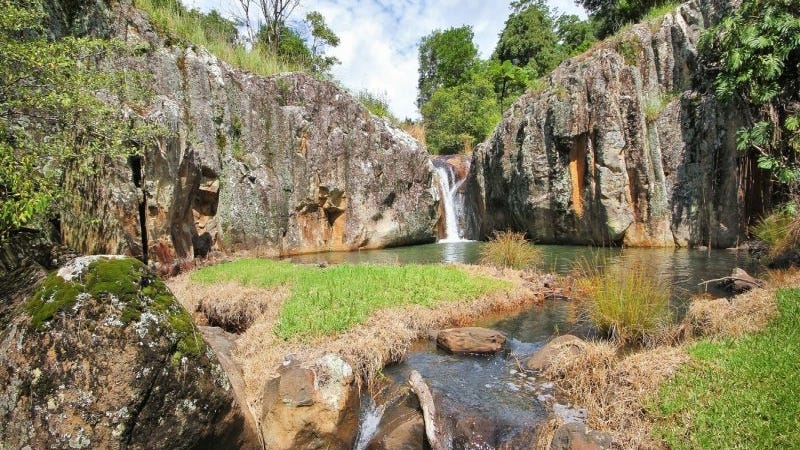 Termites in Natural Bridge
Customer Reviews
We have a perfect 5 rating on Google
I can highly recommend Complete Termite Solutions for Termite Control. The work to be carried out is explained in detail, they cleaned up on...
more
The professionalism and care shown by the CTS team was outstanding and we are so glad to have engaged them to address our termite problems. ...
more
So grateful for CTS coming out to my investment home. I was recommended by friends to call them as my tenants had a pest problem. When Alex ...
more
Natural Bridge Termites Inspection Data
| | |
| --- | --- |
| Metric | Rating (1 Low - 10 High) |
| Forestry index | 8 - Lush greenery and surrounds |
| Water index | 2 - nearby waterfalls |
| Paperbarks index | 7 |
| Gumtrees index | 8 |
| Density | 9 |
| Developed | 1970-1980 |
Natural Bridge's Best Value Termite Inspections
Speak to your local termite expert today!
We guarantee you total termite elimination.
CTS Termite & Pest Control. We are Queensland's Best termite professionals!